Dr. B K UpadhyayAssociate Director, Nephrology & Kidney Transplant Medicine - Asian Hospital Faridabad.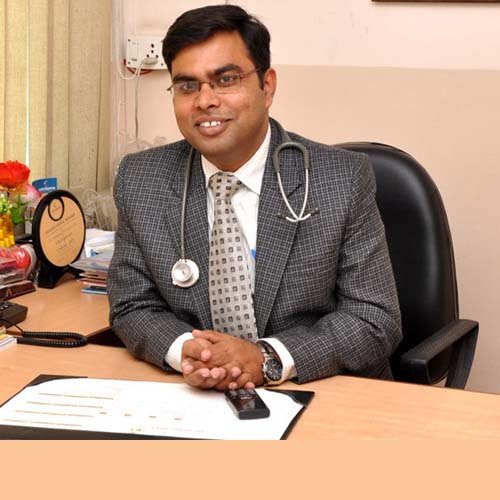 Dr B K Upadhyay, Associate Director, Nephrology and Kidney Transplant Medicine, has received training in Nephrology at one of the best Institutes of the country (AIIMS, New Delhi) and SGPGI, Lucknow. His areas of expertise include kidney transplantation (including high risk i.e. blood group and HLA incompatible), chronic kidney disease and dialysis. Prior to this he was associated with Fortis Hospital, Faridabad. He also established the Nephrology department at Sarvodaya Hospital & Research centre Faridabad in 2009. With more than a decade of experience, he has been involved in more than 200 transplants. He has vast experience of handling all patients across age group from paediatric to critical care nephrology, interventional nephrology. He has delivered best lecturers in various national as well as international conferences and forums. He believes in practicing the science of medicine like an art, with a human touch. He keeps himself regularly updated with recent advances happening world wide.
Qualification:
MBBS
MD (Medicine)
DM (Nephrology), AIIMS, New Delhi
Experience:
Extensive experience of 15 years+ with proven track record in hospitals including, AIIMS (New Delhi), SGPGIMS ( Lucknow), Ram Manohar Lohia Hospital (New Delhi)
Expert in providing services to OPD, in-patient and ICU (medical & surgical)
Haemodialysis unit – regularly doing HD on OPD basis, SLED,CRRT and Plasmapheresis
Kidney biopsy of both native and transplanted kidney
Follows CAPD and kidney transplant patients
Consultant, Nephrology for 6 years at Sarvodaya Hospital & Research Centres, Faridabad
Fortis hospital, Faridabad
Speciality Interest:
Kidney Transplantation
Hemodialysis
Peritoneal Dialysis
Chronic Kidney Disease
AKI – Acute Kidney Injury
Publications:
International Journals
Upadhyay BK, Khaira A, Sharma A, Mahajan S, Dinda AK, Agarwal SK. "Transient IgA Nephropathy caused by Dengue fever. SJKDT Jan 2010"
Khaira A, Upadhyay BK, Sharma A, Das P, Makahariya G, Mahajan S, Dinda AK, Agarwal SK, Tiwari SC." Focal Segmental Glomerulosclerosis associated with Hepatitis B virus infection: Report of two cases and review of literature" (Journal, Clinical & Experimental Nephrology) March 2009.
Letter to Editor, "Chronic Diarrhea caused by Hymenolepis Nana in a renal transplant recipient" (Journal,Clinical & Experimental Nephrology)
National Journals
"Visual evoked responses in Neurotuberculosis" A.K. Thakkar, SC Jaiswal, B.K Upadhyay, A. Kankane. Annuals of Indian Academy of Neurology, 2002, Vol 5, 153-157.
"Cerebral Venous Thrombosis: An overview"AK Thakkar, A.K Kankane, B.K Upadhyay. JIMI, Vol 5. No 2, 2002, 74-78. Chapter in Book (Medicine Update) Hyperlipidemia- A Clinico Therapeutic Approach Pranesh Nigam, B.K Upadhyay, A. Kankane. R. Chaudhary, S.P Saxena.Medicine Update, APICON 2002, Vol 12, Chap 34, Page, 222-229
Social Activities:
Organized several seminars and CME for physicians and practioners at places such as- Faridabad , Palwal, New Delhi, Ballabh Garh, Koshi kalan.
Conducted Free camps in Faridabad and various adjoining areas such as Palwal & Hodal.
Conducts Free OPD for needy people requiring nephrology Care For last 2 years regularly conducts Village Chaupal meetings to educate rural population about kidney diseases, their prevention and available treatment options.
Regulary participates in Annual world Kidney day program. Such programs have been widely covered by print and visual media and have helped in spreading awareness about kidney diseases, their prevention and available treatment options.
Regulary participates in Q & A column on health of hindi family magazine Grihsobha.
Membership:
Indian Society of Nephrology
Delhi Nephrology Society
Indian society of organ transplantation
OPD Timings:
Mon-Wed: 11:00 am – 04:00 pm
Thur: 11:00 am – 02:00 pm
Fri-Sat: 11:00 am – 4:00 pm